Too Busy Chopping Wood To 'Sharpen Your Axe'?
Focus, Consistency and Authenticity Are Winning In Today's Market
For small and medium-sized businesses, even those with in-house marketing personnel, it's hard to develop great marketing 'on the fly'.
That's because even the simplest strategies require time and multiple skills sets to execute well – and the demands of running most businesses don't leave enough time to reflect and strategize, let alone plan and execute great marketing.
CUE Creative can sharpen your axe while you 'keep chopping'.
Since 2012 we've delivered multi-faceted marketing solutions, including MARKETPro Campaign to many notable clients.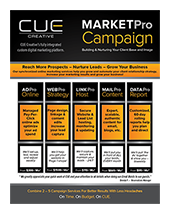 We'll share more details of each of them shortly – but if you can use some help now (or know someone who does) please let us know right away.
Contact us today and we'll help you "Put Your Money Where Your Market Is" !!